Coming in for landing
Your website's landing pages are the digital equivalent of meeting somebody for the first time. You want to make a good first impression. We're not just talking about your home page. Depending on what they've searched for, visitors can land on any one of your website's pages, so each and every one must make the most out of the opportunity. With the capacity to convert thousands of prospects into customers, it's safe to say your website is your most powerful sales tool. So getting the look and feel right should be No.1 on your list of priorities.
So, what makes a great landing page, great?
Customer-centric design
From the way it looks and functions to the language and messages it uses, your website must be strictly geared towards pleasing your audience. Discovering what your audience wants and needs from their online experience takes time and research, but understanding them is the Holy Grail when it comes to designing your site for ultimate lead generation.
Response-oriented language
The art of persuasion lies in the words you use. Whilst design can capture somebody's attention and create a great first impression, it can't tell somebody to do something specific. Informative and persuasive copy, on the other hand, has the power to coax your visitors to where you want them. So make sure you're headlines are powerful, your language audience-driven and your tone of voice true to your brand. And avoid the smash and grab technique of yesteryear; copy that shouts ("get your FREE sample NOW!!!!!!") just doesn't cut it anymore.
Bit messaging
Once upon a time, a business would tell their life story on their home page. We then realised that when it comes to the web, attention spans are pretty short. Nowadays, the most successful websites use clear, concise, bit messaging in no more than a few words. So avoid long paragraphs and use short messaging that gets to the point.
Fantastic example of bit messaging from Acme Experience: worldwide competitive storage solution provider.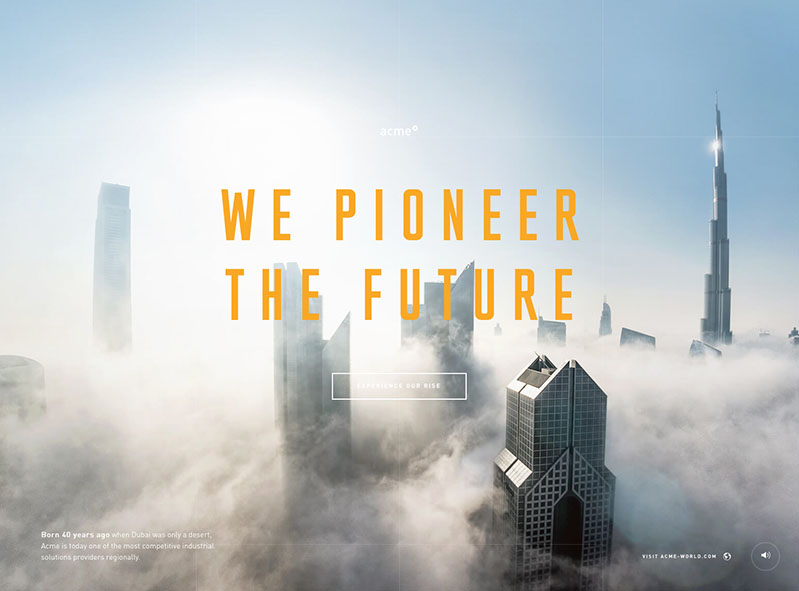 Even the likes of Rolls Royce (that traditionally attracted an older demographic) have modernised and adopted a scrolling site, which works responsively on both desktop and mobile creating a fluid experience. Goes to show that their customers really do interact with scrolling content.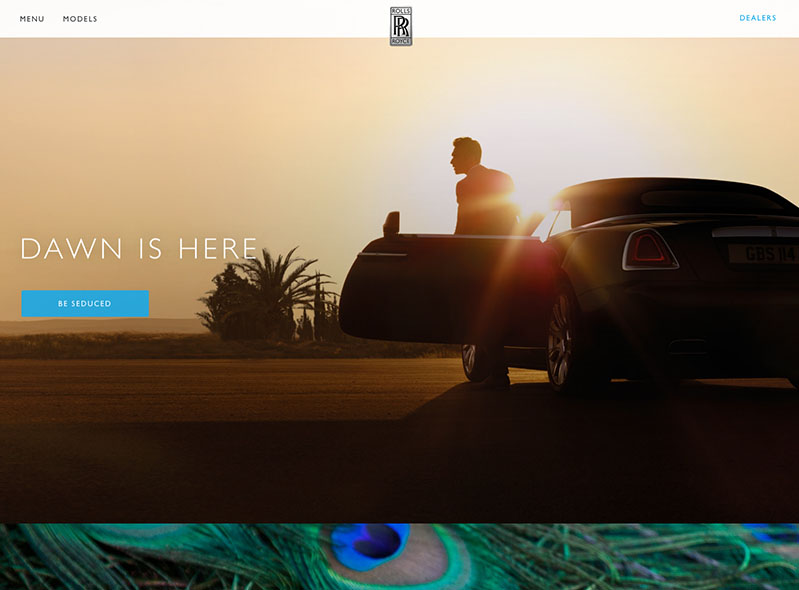 Call-to-action
Your call-to-action is your lead generator. It's there to steer your prospective customers to where you want them, be that filling out a form for a free consultation, downloading an e-book or signing up to a newsletter. In order to do their job properly, they should be: visually striking with copy that compels you to click the offer; ideally no more than five words long; action-orientated; located in an easy-to-find spot and prominent within your website design.
Trust-building
People are incredibly savvy when it comes to where they spend their money. They like to make informed purchases with trusted companies, so building trust with your audience is absolutely critical. Your landing pages should highlight any guarantees, certificates, memberships or policies you may have, or simply a phone number that has a real person on the end of it. All these things validate you as a company and in turn make your audience feel safe and comfortable with using you.
Testimonials
We all know that a company can say what it likes on its website; the real proof is in the experiences of other customers. Landing pages benefit massively from customer testimonials, which can be incorporated in a number of ways to fit with the design and layout of your website. Leveraging the positive experiences of your customers is an extremely effective way of building that all-important brand loyalty.
Scrolling design
Scrolling websites have become extremely popular as a way of keeping audiences engaged across all devices. Designed to keep visitors on one page without having to click and wait for new pages to load, scrolling offers users a seamless experience that works effortlessly across both desktop and mobile devices. Once your audience reaches their landing page, they simply have to scroll up and down to find all the information they need. So no more squinting at your mobile while you try to tap those tiny page links.
With the vast amount of competition on the web, getting visitors to your landing pages is an effort in itself. So making sure they're kept engaged when they get there is an absolute must. By utilising clever design and content, you have the power to not only keep them on your website, but also convert them into customers. If you'd like to chat about your website's landing pages, get in touch.